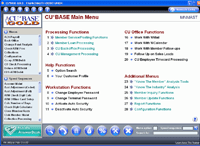 The CU*BASE system combines the processing power of a proven, feature-rich application with business logic and middleware standards designed to promote integration with third party systems – such as ZOOT for on-line credit bureau access CheckFree and iPay for Electronic Bill Payment and Presentment. This open business philosophy empowers clients to expand into new, dynamic processes on a level rarely found with traditional packages.  CU*BASE is offered via network partners CU*Answers, CU*South and CU*NorthWest, providing a variety of regional processing options focusing on local governance and processing solution opportunities.
SaaS Processing Environment
The Software as a Service (SaaS) model targets credit unions of any size. Benefits include a menu of enterprise processing services, including the CU*Answers Network – a private network  offering a secured, high-speed link to access select business partners, virtual education, technical and client support services. Additionally, your chosen CU*BASE Processor will manage client data communications and network security access to CU*BASE, while providing a single delivery channel for services such as online Banking, Audio Response, ATM/Debit and Credit card offerings. All of these are tightly integrated to benefit from the CU*BASE relational database structure.  Learn more about the SaaS Processing Environment.
In House Strategy
The solution for In-house processors of any size is our CU*BASE Member Processing System.CU*BASE provides a level of processing competency that surpasses the feature set and functionality of other "traditional" solutions on the market, and does so in a more cost-effective manner.Unlike many competitive solutions, CU*BASE is not a "subset" of our flagship product.As a result, all of our clients can take advantage of system enhancements as they are made at no additional cost. Learn more about the In House Strategy.
Learn More